Sale!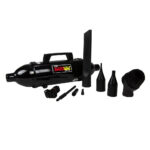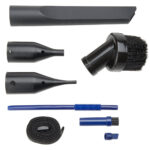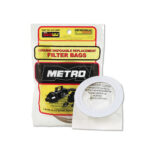 MetroVac DataVac Pro Series Vac & Blow 500 Watt
The DataVac Pro Series is the ultimate cleaning system with it's powerful vacuum and blowing functions.
Description
At one end, you have the functionality of a industrial grade vacuum cleaner, whilst at the other, the power of an electric blower. Simply connect the hose to one end of the unit for suction or switch over to operate the powerful blower. The Vacuum function uses disposable bags to catch the dust and debris and is simply emptied by unscrewing the vacuum end lid. This stops the dust being blown around the workspace. The blower can then loosen any stubborn dust before a final vacuum collects the debris.
The DataVac pro Series features a strong steel body and 500 watts of horsepower. It is designed to clean computers, printers and other sensitive-to-dust electronic equipment used in modern households and offices. This DataVac electric duster contains an air-pin pointer nozzle positioned on a flexible neck extension wand. It enables you to carry out intensive cleaning between crevices. This micro cleaning kit comes with five disposable bags and a shoulder strap.
This DataVac is the UK/EU edition which is safe to use with 220v main power.
The Product includes:
1 x DataVac Pro Series
1 x Nozzle Tip Accessories Pack
1 x 5 Pack of Dust Bags